How Do I Vote?
Voters have the option to vote two weeks before Election Day at any of the designated polling locations. A photo ID is not required when early voting. But two form of ID is required when you do the same day registration
McKinley Park 2210 W. Pershing
Feb. 29 - March 12
Mon-Sat, 9 am-5 pm (closed Sundays)
Chinatown Library 2100 S. Wentworth
Feb. 29 - March 12
Mon-Sat, 9 am-5 pm (closed Sundays)
District 9 Police 3120 S. Halsted
This is a "permanent early voting site."
Mon., Feb. 29 thru Sat., March 5: Mon-Sat, 9 am-5 pm
Sun., March 6: 10 am-4 pm
Mon., March 7 thru Fri., March 11: 9 am-7 pm
Sat., March 12: 9 am-5 pm
Sun., March 13: 10 am-4 pm
Mon., March 14: 9 am-7 pm
Election day occurs on Tuesdays and polls are open from 6am till 7pm. Bilingual election judges will be present at select precincts to assist limited English proficient speakers. In 2016, same day registration is allowed, which means you can register as a voter on election day. Bring your ID with you if you are first time voting or registration. In Chicago, bilingual ballots are available in Chinese, Hindi, and Spanish.
Interested voters must fill out an application requesting a ballot is mailed to them. Once that form has been completed and returned to the appropriate election authority, a ballot will be sent to the address provided. Vote By Mail is particularly useful for those who have full time jobs and are not able to get away to vote on Election Day.
Make an Informed and Independent Decision!
做一個負責任而精明的選民
Voter Guide for Primary Election 2016
2016初選投票指南
THE 2ND STATE REPRESENTATIVE DISTRICT boundaries

第二州眾議員區版圖
Type in your address and zipcode when you get in, then follow the instruction 登陸后輸入你的地址和郵編并根據指示查詢
PLEASE CLICK THE LOGO AND REGISTER TO VOTE
You are qualified to vote if you :
- are a U.S. citizen;
- are born on or before November 8.
- live in your precinct at least 30 days before the election;
- not be in prison/jail serving time for a conviction; and,
- not claim the right to vote elsewhere.
2016 PRIMARY KEY DATES
Until Feb 16 --- Voter Registration for primary election
Feb 17 - March 14 --- Register to vote in person at

Chicago Election Board (Location & Hours)

Feb 29 - March 14 --- Register to vote in person at any

Early Voting location in the city
From Feb 17 to March 15, it's called "Grace Period" voter registration. Voter must present two forms of identification, at least one of which shows the current address. Acceptable forms of identification include:
- Driver's license
- State identification card
- Passport
- Current utility bill, bank statement, government check, paycheck stub, or other government document that shows your name and address.
Feb 29 - March 14 --- Early Voting Click to learn more
Until March 10 --- Apply to vote by mail
March 15 --- Primary Election, you can also register and vote on this day but only at the precinct polling place assigned for that voter's home address
CBCAC Voter Engagement Action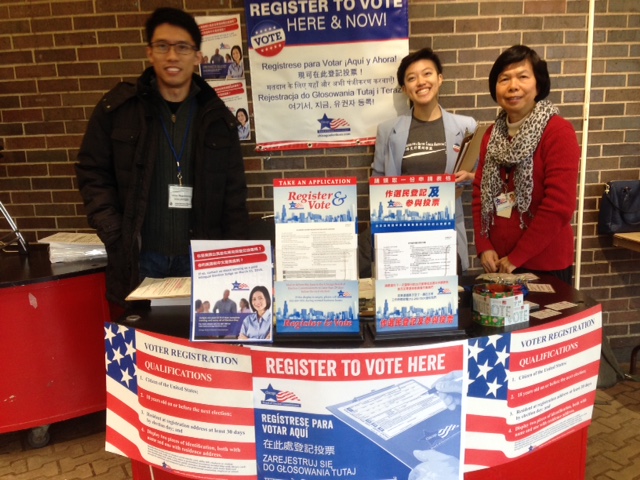 Jan 28th, 2016 --- UIC Voter Registration Drive
Feb 1st, 2016 --- Chinatown Library Voter Registration Drive
Feb 4th, 2016 --- CBCAC 2016 Election Press Conference
Feb 5th, 2016 --- UIC Voter Registration Drive
Feb 15th, 2016 --- CBCAC 2nd District State Rep. Candidate Forum